London 2012: China's Olympic swimmers to train in Bath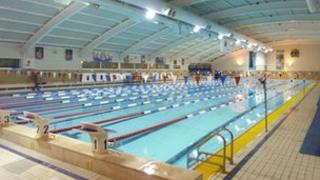 China's Olympic swimmers are to prepare for the 2012 Games at the University of Bath, it has been announced.
Twenty-five of the country's swimmers will be based at the University for three weeks in the run up to the event.
Bath-based members of the British Olympic swimming team will also be using the facilities to train, as will athletes from Malaysia.
The university's director of sport, Stephen Baddeley, described the nation as a "global super-power" in sport.
'Strong links'
Facilities on site include a 50m (164ft) pool, plus sport science areas for physiology, physiotherapy, ice-baths and saunas as well as video-analysis capabilities.
"China is one of sport's global super-powers and, as such, demand world-leading facilities and services to support their athletes as they prepare for the 2012 Games," said Mr Baddeley.
"We are thrilled they have chosen the University of Bath as their pre-Games training base."
The Chinese delegation will arrive on 2 July and depart for the Olympic Village twenty days later.
Professor Dame Glynis Breakwell, vice-chancellor of the university, said she was sure the 1,000-plus Chinese students currently studying at Bath would be "very proud" to learn of the news.
"We already have strong links with China in terms of academic research and collaboration, so we are delighted to extend this partnership into the areas of sports performance and sport science," she added.
Competitors from Malaysia have been using the University of Bath as a regular training base since early 2010.