Redland Green Community school debates becoming an academy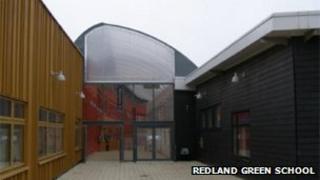 Some teachers at a Bristol school have voiced concerns about the possibility of it being transformed into an academy.
Governors at Redland Green School are discussing the impact and implications of it leaving the control of Bristol City Council.
The school is currently consulting with staff and parents, and an initial decision will be made later this month.
The £36m Redland Green opened in 2006. It has 1,400 students in Years 7 to 11.
'Financial reasons'
Bristol-based Nina Franklin, secretary of the National Union of Teachers (NUT), said: "We have a very large group of NUT members [at Redland Green School] and they feel pretty unanimously that they don't want this to happen.
"We don't think that the financial reasons for doing this, in the long term, are actually secure."
Academies are independent, although they are publicly funded.
They can set their own pay and conditions for staff and do not have to teach the National Curriculum.
Tim Trout, school governor at Redland Green, said: "It's something which we've been looking at for a long time now actually. The changes in government funding do have an enormous impact on the school.
"We are more confident about the finances over the next two to three years as an academy than we are with the very stark figures which we have to face were we to stay as a maintained school."
Clare Campion-Smith, Liberal Democrat councillor in charge of education at Bristol City Council, said: "I would be very unhappy if they move from their ethos of being a community comprehensive school but my understanding so far is that that would not be their intention."