Clifton Suspension Bridge repair work completed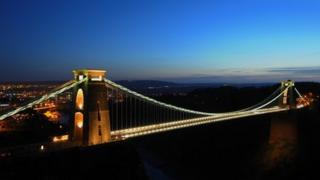 Brunel's Clifton Suspension Bridge has reopened to traffic following repairs to the historic structure.
Two hangers - the rods which attach the deck to its chains - needed replacing and had to be hoisted into position with heavy-lifting equipment.
The decision to replace them was made after an inspection of all 162 hangers revealed slight flaws in 10 of them.
The last two, one eight metres (26ft) long - the second 14m (46ft) - were replaced as part of a £155k project.
The bridge reopened at 14:30 GMT and a second contingency closure, planned for 18 March, will now not be needed.
Bridge master David Anderson said: "The old hangers will be retained for further testing and used in the development of new inspection techniques to make the process easier and less expensive when it is repeated in future years."
Workers also used the closure to repair a section of the road which had been damaged.
The bridge, which is used as a short cut between Leigh Woods and Clifton, is run as a charitable trust and receives no money from government, local authorities or the lottery.