Sex trial accused Lewis Knight 'fled to Spain'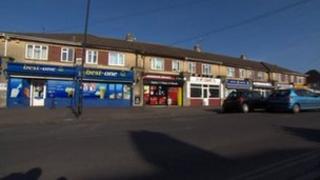 A newsagent facing trial accused of child sex offences fled to Spain after reporting his passport had been stolen, a court has heard.
Spanish national Lewis Knight fled the UK in 2000 before the trial where he was accused of child sex abuse.
Mr Knight, 60, reported his passport stolen after surrendering it to the court and fled the UK with the new one.
The former newsagent from Bath denies four counts of rape and one of gross indecency with a child.
Mr Knight, of Torres de Segre, near Barcelona, remained free until last year when British police located him and he was arrested, Bristol Crown Court heard.
The offences involving three girls took place at a newsagents in the 1990s, the court heard.
The jury was told that he groomed the girls - aged between 13 and 15 - by paying higher wages.
'Took advantage'
Andrew Macfarlane, prosecuting, said Mr Knight first made lurid comments to the girls and then moved on to touch them inappropriately.
"Unforgivably and inexcusably he took advantage of some of those children and perpetrated serious sexual abuse of them," he said
Mr Knight, also known as Luis Caballero, is accused of raping and indecently assaulting girls in the cigarette cupboard, in the cellar and in his flat above the shop.
Since the alleged incidents the newsagent has changed hands and become a general store.
Mr Macfarlane said Mr Knight was arrested, interviewed and charged by police in 1999.
He was released on bail awaiting trial.
"It turns out after the event - the Crown did not know at the time - that he reported his passport as being lost and therefore gaining himself a replacement passport," Mr Macfarlane said.
"Three days before the day of his trial on February 21 2000 he left the country for Spain.
"He failed to attend for his trial and inquiries were made and a warrant was issued for his arrest. Until quite recently he was in the Barcelona area of Spain."
The case continues.