Bristol bus improvements launched by transport minister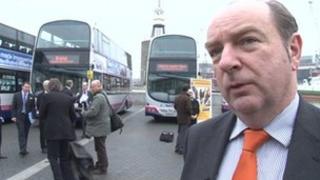 Millions of pounds worth of improvements to bus services in Bristol have been officially launched.
The five-year £79m project will provide 120 new buses and almost 1,000 improved bus stops, more than 300 of which will have new information displays.
Transport Minister Norman Baker had to fend off criticism that government cuts were pushing up prices.
The Department for Transport put in more than half the money and millions also came from local councils.
The plans are aimed at reducing congestion and improving services for commuters and shoppers.
Next month, the cost of fuel for buses will increase because the government is cutting the rebate bus companies get, meaning many fares will go up.
Justin Davies, regional managing director of First Bus (South West and Wales), said: "We are seeing a fuel price rise of 27%. We have to be able to recover an element of that price rise in the prices we charge.
"We have all seen the price of petrol and diesel going up at the pumps, all we are doing is reflecting those price changes.
"It's an economic commodity fuel, we have to pay as much as everybody else."
'Packed out'
Mr Baker said the government had inherited "a very difficult economic situation from the previous administration".
He said the government had given 18 months notice of the bus service operators' grant being reduced.
"At the time the operators said that the notice given was sufficient and they could incorporate that without putting up fares or cutting services," he added.
A regular bus user who gave his name as Michael said: "I travel from Clifton mainly into Broadmead but some weeks ago I came back to Bristol from Stafford.
"The train took an hour and 45 minutes. I waited at Temple Meads for a number 8 bus to take me to Clifton and it took me an hour and 35 minutes to get from the station to Clifton."
Drivers and some businesses also said continuous roadworks had caused tailbacks.
Mr Baker said the investment was a success and the number of bus passengers had risen.
"I came in on the bus this morning, the 54 bus into the city centre and it was packed out, so quite clearly people are voting with their feet and getting on the bus," he said.
Mr Baker said the long-term aim was to integrate bus and train travel in the West.
He said nationally he wanted to improve journey times around the country and roll out smart card technology to enable people to use the same tickets on buses as on trains.