Grove Wood beauty spot awarded town green status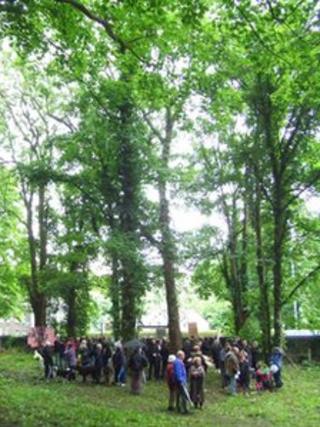 A beauty spot in Stapleton, Bristol, has been given protected town green status by the city council.
Residents have been campaigning to preserve public access to the 14 acres of privately owned riverside land, known as Grove Wood, for four years.
Members of the Public Rights of Way Committee voted unanimously to register the area as a town village green.
Steve Micklewood, the Snuff Mills Action Group chairman, said he felt "vindicated" by the decision.
"When we first started four years ago, officers from the council were telling us we didn't know what we were talking about," he said.
"We've got to the point where all the trees here are protected and we've got our access rights, so I just feel really pleased.
"Hundreds of people in this area have got together to try and protect these woods [and] have actually got what they wanted. It's fantastic."
'Quite stressful'
A statement on the Snuff Mills Action Group blog said it meant the land cannot be developed in any way that would spoil its value as a town green.
Bristol City Council said it would not comment on the decision but that the land would be registered in the next few weeks.
Local resident Andrew Hill said: It's been quite stressful actually because people have been seriously worried that they wouldn't be able to use this woodland anymore, or even worse it would be built on.
"So it's been very stressful for people. It should be safe now for other people to use for centuries to come."
The landowner, Lord Houshang Jafari, attended the meeting and his partner, Ms Lady Katrina Jafari, gave evidence on his behalf.