Punch and Judy man angry at Weston beach rent increase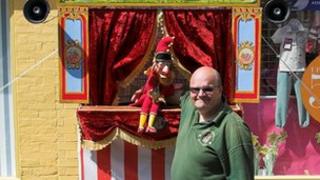 A Punch and Judy man has said he may be forced to give up his pitch on Weston-super-Mare beach this summer because the council has increased charges.
Paul Wheeler said he would struggle to "make ends meet" after North Somerset Council increased the ground rent for the season from £100 to £150.
Mr Wheeler has run a Punch and Judy show on the seafront since 2003 and is the sole puppeteer left there.
A council spokesman said the increased cost was not "unreasonable".
'Seaside tradition'
Mr Wheeler said: "Some people might say £150 for three months on the beach is fine, but if they could see it from my perspective - I'm self-employed and, if I didn't have the private bookings throughout the winter, basically I couldn't make ends meet."
The £150 ground rent fee covers the six-month period from April until September. Mr Wheeler said he was only available to appear on the seafront from June to August.
The council's executive member for tourism, Felicity Baker, said: "I don't think a cost of £150 is unreasonable to operate for the six months of the main season. It works out at about 82p a day."
Ms Baker added that the council was prepared to work with Mr Wheeler to resolve the matter.
"Punch and Judy is as much of a seaside tradition as the famous Weston donkeys and we are keen to see it flourish for everyone's enjoyment this summer season," she said.