Minute-by-minute: Tracing Bristol's roots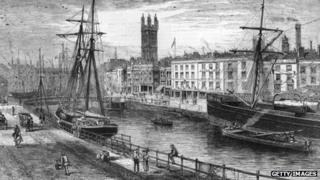 A project is attempting to capture a snapshot of the city of Bristol over a single day.
BBC Radio Bristol's minute-by-minute aims to find out the state of the city and what happens there in an average 24-hour period.
Currently about 441,000 people currently live in the west of England city.
But who are today's Bristolians and how have they influenced the harbour-side city they call home?
According to travel guide Lonely Planet, Bristol is an "economic powerhouse, gastronomic centre and a cultural force to be reckoned with".
Slave trade
Bristol's recent success is not the first time the city has thrived, although in the past its wealth was based on less positive means than food and music.
The city's prosperity in the 18th Century was based largely on its involvement in the slave trade.
It was involved in the import of sugar with many sugar merchants and West Indian planters living in Bristol.
Today the city is home to about 5,700 people of black Caribbean descent.
In more recent years the city has become a home to Polish workers and Somalian refugees.
Despite the influx of people from all over the world, the vast majority of people living in Bristol are ethnically white British, making up 349,100 members of the population.
There are currently no statistics about populations based on nationality but the city council did attempt tocalculatethe Somali community in a separate report and estimated it at between 6,600 and 10,000.
Maurice Fells, who has written several books about Bristol's history, said immigration to his home city was part of its history.
He said: "Mass immigration really began after World War II when West Indian people came to the city drawn by work and cheap housing.
"The city has this reputation as a big centre for slavery but not many slaves lived in Bristol - people traded slaves from here but they were brought in from Africa and sent out to America."
While most of those coming from the Caribbean settled in the St Pauls area of the city, Mr Fells said he did not regard the city as segregated and he said things had moved on since the St Pauls riots in 1980.
"There are white people, Somalians, Africans and people from Bangladesh all living on the edge of the centre of the city," he said.
He added he thought Bristol welcomed new arrivals because of its trading history.
"I remember, as a child visiting the city docks, it was not unusual to see people from different parts of the world," he said.
"Ships came here from the Baltic and West Africa and it never occurred to me that they were strange people."
Dr Madge Dresser is a reader in history at the University of the West of England and has co-written abooktracing the history of the different ethnic groups that have come to Bristol throughout the past 1,000 years.
She said a vast range of people had travelled there throughout history including Welsh, Irish, Italians, Germans, Africans, Ugandan Asians and Iraqi Kurd immigrants.
"The Afro-Caribbeans and South Asians are old news in a way," she said.
"The latest groups to come in are the Iranians, Zimbabweans, Iraqis and Somalis."
Dr Dresser said different cultures had experienced different levels of success at integrating into the wider community.
"There are two to three variables: what skills set are they bringing? If they are from a rural background coming into an industrial society, on the whole it will be harder for them to integrate well," she said.
"High literacy and business skills make it easier to assimilate and whether there is an educated elite within your ranks to argue your case is important too.
"It also depends on what state the economy is in, because if it's expanding it's easier to integrate than if you're out of work."
Historically, Dr Dresser said Bristol had always been divided between a liberal group which was opposed to slavery and oppression and a more conservative group less willing to accept different groups coming into the city.
She said: "There is still a white ring around a multi-cultural centre but it is permeable."
Events like the St Pauls Carnival have also helped community cohesion, she added.
"Music is a great unifier and people are mixing more as a result of globalisation."