Bristol City Council mayoral leaflets 'not fair or balanced'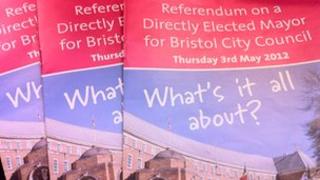 A council is facing a £21,000 bill for leaflets which the government has claimed are not balanced or accurate.
Bristol City Council hoped to claim the money back for producing the 12-page booklet, distributed ahead of the mayoral referendum on 3 May.
But the government has refused to cover the cost - after saying the literature did not pass its impartiality test.
There are also claims some voters have not received the booklet while 10,000 ineligible voters have.
Bristol City Council said the leaflet was "impartial and fair" but admitted some problems with its delivery.
Greg Clark, Conservative minister for cities, insisted there were inaccuracies in the document.
He said: "One of them is this business about the cost of the election, suggesting that it is somewhere between £360,000 and £400,000.
"If Bristol votes 'yes' for a mayor, the election will be in November where there's already another election taking place.
"Every voter in Bristol will be voting, paid for by central government, so all that will be required is to print another ballot paper.
"So it's not right to put [out] information that is inaccurate."
Gary Hopkins, chairman of the city council's elections and democracy committee, said: "It was put together by objective officers. It is an appalling slur on [the] officers that they've invented the cost."
Mr Hopkins said the figures were "actual facts, not on-back-of-the-envelope calculations".
The council said it was in talks with the government and it was "confident and hopeful" the costs of the leaflet will be met.
Royal Mail was due to deliver nearly 172,000 leaflets and all deliveries were to be completed by 30 March.
Many homes in places such as Clifton, Henleaze, Bedminster and Bishopston have not received the literature, while thousands of residents in North Somerset, South Gloucestershire and Bath and North East Somerset have, despite not being able vote in the referendum.
Mr Hopkins blamed Royal Mail for the delivery problems.
Royal Mail spokeswoman Val Bodden said: "We are not aware of any problems with door-to-door deliveries in the Bristol area for our customer, Bristol City Council.
"If any customer has any issues with non-delivery of the referendum leaflet, they should contact Royal Mail customer services on 08457 740740 and it will be fully investigated."