Gloucestershire County Cricket Club backs call to reopen station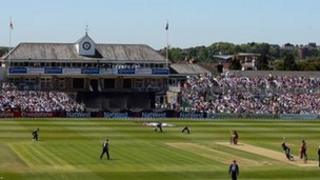 Gloucestershire County Cricket Club has backed a transport campaign which aims to reopen a train station close to the cricket ground.
If successful, Ashley Hill will become a new link in a planned metro rail system for Gloucester, which connects to Parkway and Temple Meads in Bristol.
Chief executive Tom Richardson said the club was committed to promoting public transport for match travel.
The campaign is also supported by the England and Wales Cricket Board (ECB).
'Large crowds'
Earlier in the week, representatives of the ECB visited the grounds to look through the club's development plans.
The club is hoping to upgrade the facilities at the Nevil Road grounds so it can host international matches.
A new planning application to upgrade the grounds was submitted to Bristol City Council earlier this month after a previous application was rejected in January.
TheGreater Bristol Rail Linkgroup wants some stations reopened, such as Ashley Hill, and more frequent services in the greater Bristol area.
Gordon Hollins, ECB managing director of events and county business, said: "The ECB is fully supportive of ensuring a variety of public transport options for travelling to and from matches and this is particularly important when large crowds are expected."