Ashton Vale stadium review can go ahead, High Court rules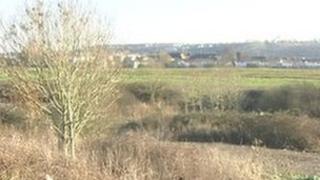 A judicial review which could block a new football stadium can go ahead, the High Court has ruled.
Bristol City Football Club wants to build a stadium at Ashton Vale but protesters want the land designated as a town green.
Lawyers acting for the campaigners said they welcomed the decision "to let the claim proceed in the public interest".
Bristol City Council said the decision would mean "more months of division, uncertainty and big legal bills".
The football club was granted planning permission for the 30,000-seater development in October 2009.
However an independent inspector backed a town green in 2010 - but Bristol City Council went against her advice.
A public rights of way committee decided only half the land should be a town green, with the other half to be used for the stadium.
'Justice done'
But in February, the original applicant decided to withdraw, with the campaigners asking the High Court to allow a second person to take on the claim.
Lawyer for the protesters Adrienne Copithorne said: "The council's attempt to stop it [the claim] has amounted to a waste of time and public funds.
"The High Court can now get on with addressing the real issue, which is whether the council was right to register only part of the land at Ashton Vale as village green, contrary to the inspector's recommendation."
Peter Crispin, from campaign group Save Ashton Vale's Environment (Save), said "justice has been done".
"We haven't carried out this long battle... without believing fundamentally that we were right," he added.
Bristol City Football Club owner Stephen Lansdown said: "The judge's decision is just another illustration of the anti-business and anti-capital-generating stance now infecting the UK and in particular Bristol."