More than 10,000 waiting for home in Bristol, council says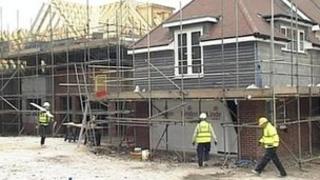 More than 10,000 people are currently on the housing register waiting for a home in Bristol, a survey commissioned by the city council has revealed.
The results also indicate the number of people living in private rented accommodation in the area has risen by 20% over the past three years.
It also shows Bristol has relatively high numbers of empty properties.
The Liberal Democrat-led council said it could only build 12 new homes this year because of costs.
It claimed it was taking action to reduce numbers of empty properties and bring those buildings back into use.
Figures from Bristol City Council show 21% of all homes in the city are now privately rented.
It is the first time this has exceeded social housing rentals since the end of World War I.
The survey also shows that Bristol has a higher than average number of converted flats and houses with multiple occupancy, mainly because of the large number of university students in the city.
'New rules'
The council said it was working to tackle the surge in demand for housing in the area, but admitted not enough new homes were being built.
The local authority said it was restricted by the amount of social housing it could build because of the cost.
Councillor Anthony Negus, cabinet member with responsibility for housing, said the council was building 12 new homes this year.
"Under the new rules we are not allowed to climb above our debt level - this is all we can afford," he said.
"But it is a marker for the minimum... and will be increasing year-on-year.
"This year we will be building larger four-bedroomed houses particularly for people at risk over the housing benefit restructure."