Face IT helps Naomi Milward rebuild life after 'horrific' accident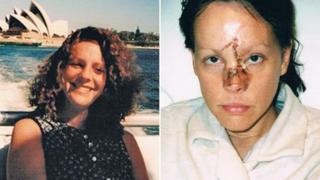 A woman who suffered severe facial injuries in a road accident in Kenya says a computer programme developed in Bristol has helped her rebuild her confidence.
Naomi Milward, 40, from Paignton, Devon, was travelling to Lake Nakuru on a safari holiday 10 years ago when the van she was in collided head-on with a car.
The accident claimed the life of three people in the car and left her disfigured.
"When I woke up in hospital my face was fully bandaged with small holes so I could see and breathe," she said.
"I couldn't bring myself to look in a mirror but days later I caught a glimpse of myself in a window.
"It was just horrific - the person I saw wasn't me.
"My anaesthetist told me later my face had split open like an orange."
After 17 days in a Nairobi hospital and emergency surgery, Naomi returned home.
"Although the physical healing was steady the psychological pain of the accident was just beginning.
"Before the accident I was in my prime. I was the kind of woman who worked hard and partied hard but following the tragedy it led me on a very challenging journey.
"I had to learn again how to do everyday things like drinking a cup of tea or eating an apple.
"I locked myself in and didn't go out of the house unless I had to and then I thought long and hard about where I was going and why - and usually took a friend with me."
She added: "People with disfigurements lose their social anonymity."
'Psychological support'
In 2008, Naomi was referred to the Face IT project run by the Centre for Appearance Research at University of the West of England, near Bristol.
Face IT is funded by the national charity Changing Faces and aims to help people with disfigurements rebuild their social skills and self-confidence.
Naomi was introduced to PhD student Alyson Bessell, who had been chosen by the charity to turn a series of sessions with a doctor into a computer-based learning package.
The online version helps users with invaluable strategies including goal setting, thought processes, social skills and fear testing.
"A good example of how Face IT helped me happened a few weeks ago," Naomi said.
"I went into a busy supermarket and as I was in the queue I could see the checkout woman staring at me.
"Previously this would have made me very cross and agitated, but the programme teaches you not to make assumptions - for example, she might have been thinking how pretty my dress was."
Self-esteem
Dr Bessell, who is now a psychology lecturer at Plymouth University, said the emphasis within the medical profession was mainly on treating physical injuries, while psychological support was often lacking.
"Once referred to the programme users undertake eight one-hour-long computer sessions and then spend 15 minutes with a medical professional after each one who can answer any questions," she said.
"The trial compares favourably with conventional treatments where the user would sit with their medical professional for an hour or so.
"Face IT helps them with communication and social skills, gives them encouragement and being valued improves their self esteem and reduces anxiety.
"We are now looking to widen the project so people can use it in their own homes without having to be referred by a medical professional."
James Partridge, chief executive of Changing Faces, said a version specifically aimed at young people was also being produced.
He said this would inform them about their disfigurement, and help give them the positive attitude and resilience to deal with it.
"And the communications skills they learn will help them in all areas of life in the future - for example at a job interviews," he added.