Bristol Evening Post jobs protest takes place in the city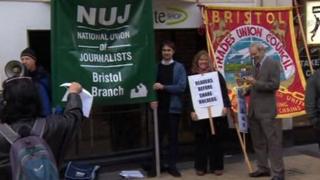 Journalists angry about cuts being made to the Bristol Evening Post have held a protest in the city.
Members of the National Union of Journalists (NUJ) demonstrated outside an exhibition marking the 80th anniversary of the newspaper.
They say the jobs of 19 of the 56 staff are at risk after plans to axe the Saturday edition were announced.
The paper's owner, Northcliffe, said the changes would give it "a better platform for growth".
About a dozen protesters were joined by members of the National Union of Teachers (NUT) and the Bristol Defend the Asylum Seekers Campaign, who said they wanted to defend quality journalism in the city.
Bristol NUJ chairman Paul Breeden said: "We think the paper's being hollowed out.
"This is the worst possible birthday present from Northcliffe, not just to the journalists who are going to lose their jobs but also to the people of Bristol.
"With a staff of fewer than 40, the Evening Post, a once great evening paper, can't serve the people of Bristol properly."
The protest was held in Broadmead outside an exhibition marking the 80th anniversary of the first edition of the Evening Post, on 18 April 1932.
Plans to stop printing the Saturday of the edition of the newspaper were announced by Northcliffe last week.
The publisher said the paper would be renamed The Post from 19 April.
It has a circulation of about 38,000 after a fall of more than 7% in the past year.
A month-long consultation over the proposed job losses is due to begin on Wednesday.