Asbestos plans for Stowey Quarry opposed by Bristol MPs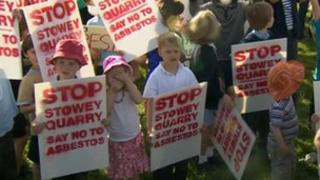 Two Bristol MPs and the leader of the city council have urged Bath planners to listen to objections to the proposed disposal of asbestos at a quarry.
An application to dispose of hazardous waste at Stowey Quarry was initially approved by Bath and North East Somerset Council last July.
The decision was later quashed but an application has since been resubmitted by Oaktree Environmental.
Opponents fear asbestos may get into Chew Valley reservoir.
'Represents a risk'
Bristol City Council leader Barbara Janke said some residents were concerned at the possibility of toxic asbestos disposed of at the Stowey Quarry site posing a "potentially devastating risk to public health in Bristol".
Bristol Water, which owns Chew Valley Lake, said it "considers that the use of Stowey Quarry as a waste disposal site is inappropriate and represents a risk to the long term quality of the water resource at Chew Valley Lake".
Labour MPs Kerry McCarthy and Dawn Primarolo have also written to Bath council planners after being contacted by concerned residents.
The Environment Agency said it would be objecting to the plans.
A spokesperson for Bath and North East Somerset Council said no decision would be made on the application before 6 June.