Barry Rubery murder: Police examine shoe print clue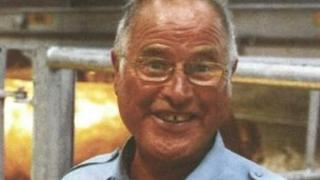 Police investigating the murder of a pensioner from South Gloucestershire have released new details.
Barry Rubery, 68, was found bound and beaten in his home in Iron Acton in April 2010. He had been tied up with electrical flex and cable ties.
Avon and Somerset Police say a shoe print outside Mr Rubery's cottage could be linked to the murder.
They think the partial print of the sole may be from a Nike brand trainer.
Det Ch Insp Mike Carter said: "We want to link that [the shoe print] to the cable ties that we've showed previously and find out whether or not there is a link between the two.
"It may jog someone's memory, so we can get a name."
Mr Rubery's body was found by a friend the morning after the grandfather-of-six had attended a dinner at a Masonic lodge in Bristol.
Police believe he had returned home at around 22:45 BST.
The killers stole Mr Rubery's gold Masonic pocket watch, a Makita drill, keys, a Nokia 3310 mobile phone and an extension lead.
Mr Carter also said the circumstances in which Mr Rubery was killed were unusual as all of his neighbours, who would normally have been at home, were away at the time of his death.
"His neighbour who lived on the grounds was not home, his friend had moved out days earlier and his partner had stayed at her own home. I believe someone knew Barry would be alone and that they would not be disturbed," he said.
"We know that Barry had strong links with his local community and those involved in farming and agriculture and we believe someone within these communities may have that vital piece of information that could help solve this murder."
In a renewed bid to solve the case, Avon and Somerset Police have assigned additional staff to the investigation, bringing the team to around 20.