Bristol doctors first in UK to implant heart treatment device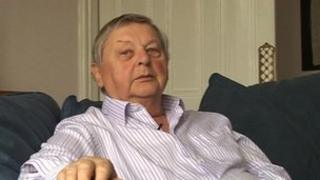 Doctors in Bristol are the first in the UK to successfully implant a nerve-stimulating device in two patients in an effort to treat people with heart failure.
The surgery is part of a European trial to find another form of treatment for people with the ailment.
The trial, which involves 96 patients, involves electrically stimulating one of the nerves leading to the heart.
It is hoped the procedure could shrink the heart and improve life expectancy.
The NHS says more than a million adults in the UK suffer from heart failure.
John Joiner, from Weston-super-Mare, is the first British patient to undergo the procedure, which sees surgeons fit a device - similar to a pacemaker - to the vagus nerve which runs to the heart.
'Noticed improvement'
For the first six months of the trial, two out of three patients have the vagal nerve stimulator turned on.
After six months all participants will have it switched on.
Mr Joiner said he did not know whether his device had been activated yet but suspects that it has.
"I've certainly in the last couple of weeks noticed an improvement in my breathlessness, not a lot but it's something," he said.
"I can climb stairs more easily and the duration of my walking seems to be getting a little better, I can now walk up to three miles."
The Bristol Heart Institute (BHI) was the first site in the UK and the third in the world to implant the device.
Dr Angus Nightingale, from the BRI, said: "Stimulating the vagus nerve is commonly used to treat epilepsy and depression but may have other significant benefits.
"The device goes under the skin in the chest and is then attached to the vagus nerve in the neck under general anaesthetic."
He said the device stimulated the nerve when switched on.
"The idea behind this is that chronic autonomic imbalance is believed to be a risk factor of the progression of heart failure and adverse cardiovascular events," he added.
"The stimulation should alter the balance of the system and improve cardiac function."
The trial will evaluate 96 patients at 25 sites across Europe.