Expansion of Bristol Haematology and Oncology Centre backed by board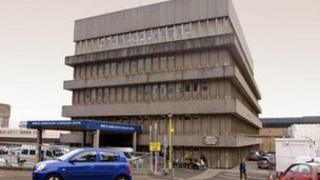 Plans for a dedicated hospital unit for teenagers and young adults with cancer in Bristol have moved a step closer.
The £16m expansion of the Bristol Haematology and Oncology Centre has been backed by the University Hospitals Bristol NHS Foundation Trust's board.
The trust is currently awaiting planning permission for the redevelopment.
The centre provides haematological and cancer care to people living in Avon, Somerset and Wiltshire.
Amit Bahl, lead clinician for the Bristol Haematology and Oncology Centre (BHOC), said: "This continued development of BHOC will ensure facilities that match the excellent standard of care provided to patients at the centre."
Other departments to benefit from the project include paediatric burns, neurosciences, and therapeutic services.
The scheme, which will also provide two replacement radiotherapy bunkers, has been welcomed by Above and Beyond, the Teenage Cancer Trust and Friends of the BHOC.