Three injured in Taunton house fire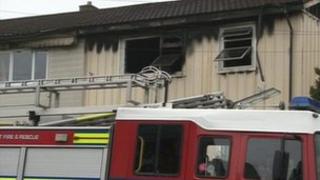 Two people in Taunton have been treated in hospital after breathing in smoke during a house fire.
A third person suffered minor burns in the blaze in Wordsworth Rd on Friday.
Fire crews were called to the semi-detached house at about 05:30 BST but the residents had already escaped.
Devon and Somerset Fire and Rescue Service said the windows had broken in the heat generated by the fire, and the flames were about 10ft high when they arrived.
The cause of the fire is under investigation.