Bristol Rovers stadium would be 'nightmare', say residents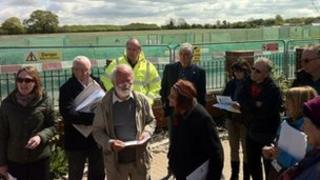 A new football stadium in Bristol would be a "nightmare", residents living close to the proposed site say.
The claim was made as councillors who will decide if a Bristol Rovers stadium can be built inspected the area by the University of the West of England.
Bristol Rovers spokesman Craig Rawlinson said he was "very happy this was a good area for a stadium".
But objector Lesley Cox said she thought it was the "silliest place to put a stadium".
Many of the objections to the scheme are from residents of adjoining Cheswick Village and nearby Stoke Park, who claim both areas would be used for matchday parking.
One, Barbara Pearce, said: "I don't see why we should put up with massive parking problems."
While another, Derek Parsons, claimed Bristol Rovers' plans relied on 800 fans finding residential parking spaces on matchdays.
'Understand issues'
Ed Ware, a Bristol Rovers director, said he wanted to allay fears over the impact of the planned stadium.
"I think it's absolutely clear we understand what the issues are and residential amenity and transportation are probably top of the list.
"The scheme is a design where 22,000 seats are below ground and were put forward as a way of minimising the visual impact of the stadium.
"It's fully enclosed which will deal with light and noise pollution."
Mr Rawlinson added: "The pedestrian and cycle routes and the road infrastructure here is really good for a stadium.
"They key issue is the parking and making sure we have enough parking to suit our own needs."
He added that the football club would contribute towards a warden scheme and could use extra parking in neighbouring UWE to boost on-site spaces to 2,500.
More than 1,100 letters of support have been sent to South Gloucestershire Council since the planning application for the stadium was lodged.
About 100 objections have also been sent to the council, while about a dozen objectors attended Friday's meeting.
The chairman of the planning committee, Dave Hockey, said a decision was likely to be made at a planning meeting in either June or July.
Bristol Rovers currently play their home games at the Memorial Stadium in Horfield which it is planning to sell to Sainsbury's.
The supermarket has submitted a planning application for a new store there.