Bristol man gets concrete ribcage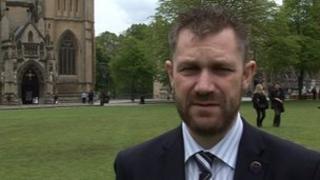 A Bristol man has had part of his body rebuilt using concrete.
Marek Barden, the verger at the city's Lord Mayor's Chapel, had a 1.5kg (3lb) tumour around his ribs that was pushing against his internal organs.
When it was removed by surgeons at Frenchay Hospital, they also had to take out six of his ribs.
The ribs were replaced by a 3-4mm thick, 25cm (10in) square concrete panel on his right hand side in a six-hour operation.
Mr Barden said he thought a lump in his chest was a broken rib from a bicycle crash.
It was in fact, the tip of the tumour.
Mr Barden, who returned to work several months ago, said: "It could have been growing for some time before I even knew about it and having the accident brought it to my notice I suppose.
"I was lucky it happened in Bristol because the team up at Frenchay are I think probably the best team in the country for this."