Gloucestershire County Cricket Club plans set for approval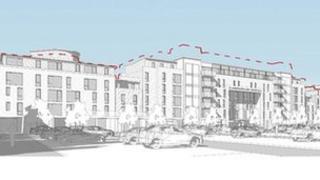 Revised plans to redevelop Gloucestershire County Cricket Club's ground in Bristol have been recommended for approval by city planners.
The club wants to improve facilities at its Nevil Road ground to ensure first-class cricket is kept in Bristol.
In January, the Liberal Democrat-run city council rejected plans to build flats at the ground, but since then the club has reduced their overall height.
Councillors will make a final decision on 30 May.
The club's chief executive, Tom Richardson, said the scale of the building had been an issue last time around.
"We've also looked at the whole aspect of what we're doing in terms of trying to benefit the community and there's a whole range of things we've done there," he said.
"We've looked to improve the sustainability profile and also transport issues.
"We've worked very hard to move forward."
The club had lodged an appeal against the original refusal, but it is understood this would be withdrawn if the new application goes through.
Changes to the previous plans include removing one storey, so the central penthouse level is six storeys high.
The club had considered a move to Filton Airfield in order to continue to attract international cricket to the city.