Bristol doctors trial surgery to combat high blood pressure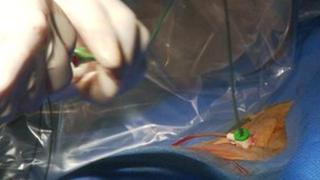 A new surgical procedure to control high blood pressure in patients in the South West is being trialled by Bristol doctors.
The research study is being carried out by the Bristol Heart Institute (BHI).
The trial, which involves 100 patients, involves severing the nerves that connect the kidneys to the brain.
Dr Andreas Baumbach, at the BHI, said the research results show patients who had the procedure "saw their blood pressure drop by around 20%".
High blood pressure, or hypertension, is a condition where the force the blood exerts on artery walls is higher than desirable.
Left untreated, the condition can significantly increase the risk of a stroke, heart failure and chronic kidney failure.
As part of the new treatment, a wire is passed into blood vessels feeding the kidneys.
The wire is heated to burn and sever the nerves running along the outside of the vessels.
"This is a fascinating new way of dealing with hypertension," said Dr Baumbach.
"Research results published in The Lancet show that patients who had the procedure saw their blood pressure drop by around 20% and blood pressure seems to fall continuously even after two years."
Dr Angus Nightingale, a consultant cardiologist at the BHI, said: "Recent results suggest that this treatment may be an effective way of reducing blood pressure in a group of people that we have found hard to treat in the past."