Bath residents asked about parking in new council survey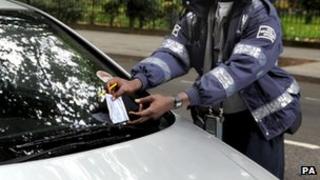 Some 23,000 homes and businesses in the centre of Bath are to be questioned about parking in the city.
Bath and North East Somerset Council said it would help it to plan for the future.
Roger Symonds, Lib Dem councillor for transport, said 6,000 new homes were due to be built in the next 10 years which would greatly increase pressure on roads in and around the city.
An overall transport strategy for the city will be discussed on 18 September.
As well as new homes, the council's long-term plan includes 5,700 new jobs at commercial developments across the city, including at Bath Riverside.
Mr Symonds said the three park-and-ride services - at Lansdown, Odd Down and Newbridge - would also be extended "in the next year or so".
'Very unusual'
Patrick Rotheram, chairman of Vineyards Residents' Association, said parking was "extremely difficult" for people living in the city centre.
"There is a parking scheme but there are no reserve places for residents. I think this is very unusual.
"We think it's important that this survey gives us the opportunity to express our views on that."
At the moment there is a £90 charge for a residents' parking permit in the central zone .
Mr Symonds said councillors were considering a number of ideas to help residents, including allowing them to park in private car parks overnight.
At present, he said, there was no "overarching strategy" for transport in the city, and the survey would help fill that gap.
But he added: "There's no silver bullet that will solve Bath's parking problems."
The survey is available on the council's website . The closing date for online replies is 22 June.