Wild owlets discovered in car boot in Bristol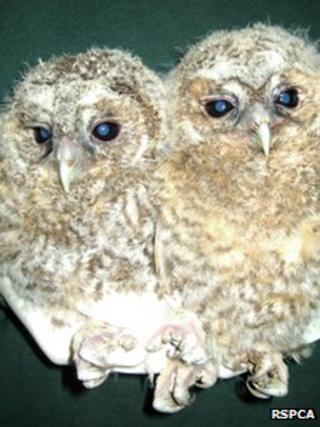 Two baby owls found by police in a car boot in Bristol are thought to have been taken from the wild.
The tawny owlets, discovered last week during a routine police check, are just a month old and are thought to have been taken near Chew Valley lake.
It is not yet known where they were being taken or why.
They are unhurt and are in the care of West Hatch Wildlife Centre, in Taunton, where they are said to be "eating well". The RSPCA is invesigating.
'Real hoot'
Peter Venn, manager at West Hatch, said: "We have no idea what these owls were doing in the boot of the car but it is a shame they were taken away from their natural environment.
"It can be hard to successfully raise young animals like this away from their parents, and we always advise that people leave baby animals where they are where possible.
"However these two are getting along brilliantly, having a real hoot. They're eating well and mixing with the other owls we have in our care."
The owlets will be looked after until they are old enough to fend for themselves and they will then be released back into the wild.
A spokesperson for the RSPCA said it was looking into the circumstances of where the owlets came from, but as the investigation was ongoing it would be inappropriate to add further comment at this time.