Campaigner claims Bristol bus lane 'is madness'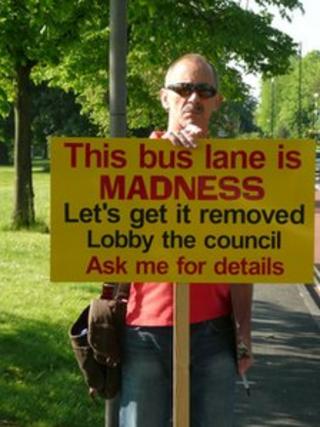 The introduction of a bus lane on a commuter route is causing so much congestion that buses cannot get to it, a campaigner has claimed.
A group called This Bus Lane Is Madness is calling for Westbury Road in Bristol to be restored to two lanes of traffic.
Simon Brooks, who formed the group, said buses only used the lane once every five or six minutes.
Councillor Tim Kent said he was not certain the bus lane was the cause of the problems.
'Absolute madness'
Mr Brooks said: "The buses go once every five minutes through that lane in the morning so for the majority of the time it's absolutely empty.
"In the afternoon it's once every six minutes.
"How can they justify having a massive queue of cars, all the way back beyond Badminton School, for the sake of a bus using that lane once every five minutes, if it can get to it.
"This bus lane is madness, it's absolute madness."
Mr Kent, Liberal Democrat councillor responsible for transport at Bristol City Council, said: "We do have problems there, we don't deny that, but we're not too certain the bus route is the cause of it."
He said he believed temporary traffic lights on North View were probably the major cause of the queues.
The lights were due to be removed in July, but he said he would ask if the work could be sped up.
An assessment of traffic flow would then be carried out, Mr Kent said.