Gloucestershire County Cricket Club plans are approved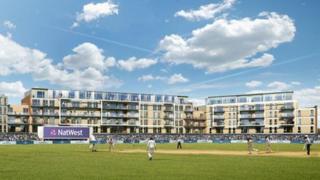 Revised plans to revamp Gloucestershire County Cricket Club's ground in Bristol have been approved by councillors.
The club wants to raise the profile of cricket in the area and help secure its future by holding international games.
During Wednesday's planning meeting at Bristol City Council, councillors voted seven to three in favour of the plans.
The proposals include an apartment block overlooking the ground and will see capacity increased to 17,000 seats at the Nevil Road ground.
A media centre is also planned.
'Really struggled'
In January, the scheme was rejected due to the height of the flats at the ground but this has since been scaled back by one storey.
However, protesters believe that once the flats are occupied local schools will be oversubscribed.
One parent, Christina Gregg, whose child goes to Down Brunel Field Primary School, said: "A lot of us with children in Year One really struggled to get a place in a school and, like myself, like my friends also, didn't get their first choice.
"Then we felt really privileged when they built this school.
"It's enabling a lot of children to walk to school in this area and if they build another load of flats, where there is already pressure to have wonderful schools, it's just a shame."
A local residents group called Howzat, has also objected to the flats because they believe they are not in keeping with the local area.
England and Wales Cricket Board has told the cricket club it must modernise.
The club has already missed out on a tie with New Zealand next year due to the continuing uncertainty over the future of the ground.
The club wants to be in the running for World Cup Cricket in 2019.