Sex attacks in St George area of Bristol 'may be linked'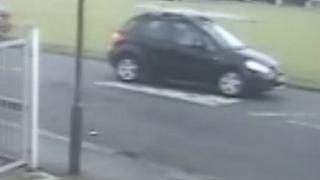 Two sex attacks in the St George area of Bristol may be linked, police have said.
A 16-year-old girl was sexually assaulted on Kingsway at about 21:30 BST on 30 May.
Detectives are investigating a link to an indecent assault on one of a pair of 16-year-old girls walking along Kingsway at about 22:15 BST on 11 May.
Police will be on the street later asking people for information that can help their inquiry.
Detectives are keen to hear from a man who was walking his dog in the area on 30 May, and the drivers of two cars seen passing by on CCTV.
One was a Vauxhall Zafira and the other was a small dark-coloured car, similar to a Suzuki SX4, carrying what appear to be lengths of wood on the roof rack.
'Wearing balaclava'
Det Con Sam Donati said: "I would like to reassure local people that we have increased our patrols of the area and are carrying out a very thorough investigation into both these incidents.
"This sort of attack is thankfully unusual, but we would always urge people to take care when out at night.
"Plan your route home by pre-booking a taxi or arranging a lift or walking home with friends, staying in well-lit and busy areas."
The man involved in the first incident was described as white, about 6ft tall, with a Bristolian accent and wearing a black balaclava.
In the second incident the man was also said to be white, and he covered his face with sunglasses and a beanie hat. He is thought to be aged between 20 and 40.
Det Con Donati said the girls were being supported by the police and independent Sexual Assault Referral Centre, The Bridge.