Bristol green city bid team sets off for Brussels judging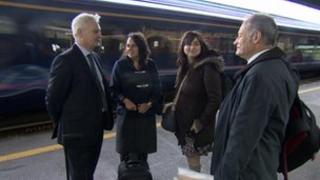 A team that will present Bristol's bid to become Green Capital of Europe is on its way to Belgium where judging will take place.
The seven-strong bid team left the city by train earlier on their way to Brussels. They will be interviewed by a panel of experts on Friday morning.
Bristol is up against Copenhagen and Frankfurt to be named 2014 European Green Capital.
The announcement of the winner will take place on 29 June.
Nineteen European cities entered the competition, but only three were chosen to go through to the final stage.
The bid team will take part in a 60-minute presentation followed by 30 minutes of questioning by a panel of experts at the European Commission about their proposal for 2014.
'Commitment in the city'
Organisers say the award will be given to a city which has "a consistent record" of achieving high environmental standards, is "committed to ambitious goals" for environmental improvement, and can act as a role model to inspire other European cities.
Martin Bigg, chair of Bristol Green Capital Partnership, who is part of the bid team said it was "obvious" why Bristol should win.
"We have the commitment in the city from businesses to voluntary groups demonstrating already that we are committed to addressing climate change, to improving our transport to looking after our green spaces."
Stephen Hilton, from the city council, said if Bristol won it would be "a celebration of all the great work and passion, enthusiasm and commitment" of people in the city who are involved in environmental issues.
"It would give us a fantastic platform to sell Bristol at a European level to attract new jobs and businesses".