Bristol Crown Court trials delayed by funding cuts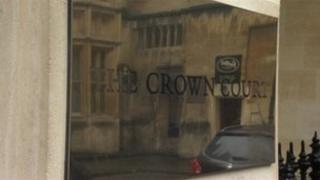 Bristol's leading judge has said it is "extremely regrettable" that trials at the city's crown court are being held up because of a shortage of judges.
Cuts to Ministry of Justice funding also meant trials are being delayed and barristers turned away.
Recorder of Bristol, Judge Neil Ford QC, said the situation was "the way of the world. I can only apologise."
Plans to cut £2bn from the ministry's budget was announced in 2010, with a warning that 15,000 jobs could be lost.
A Ministry of Justice statement said the number of sitting days in Bristol this year has been reduced by only 10.
"Senior judiciary will monitor workload and performance levels to ensure standards are being maintained," the statement continued.
'False economy'
Defence solicitor Ian Kelcey, a senior partner at Kelcey and Hall in Small Street, Bristol, said "without a shadow of a doubt" cuts were affecting justice.
"As I understand it, the Ministry of Justice are limiting the amount of days each court centre can sit part-time judges, which are called recorders," he added.
"The result of this is that we have empty courts, as we have now in Bristol Crown Court.
"It means that this is having an effect on delaying justice. It has a bad effect on witnesses and victims, as well as upon defendants."
He said having people sitting in prison longer whilst waiting for trial was a "false economy" and more money was being spent delaying justice.
Leading lawyer William Clegg QC, who defended Vincent Tabac during his trial for murdering landscape architect Jo Yeates, had a case cancelled yesterday.
His client will now have to wait until September to face trial. He told the court: "It's a curious way of saving money. Is this justice?"
'Crashing down'
BBC Points West's home affairs correspondent, Steve Brodie, said two out of the 10 courts in Bristol stood empty on Thursday because the Ministry of Justice could not afford to pay recorders to sit and hear trials.
"One barrister told me he's had seven cases cancelled in the last six weeks," he added.
Mr Kelcey said historically Bristol courts have been very busy but now cuts at the Ministry of Justice meant the "efficiency of justice" was being impacted upon.
"The cutbacks within the courts, the number of staff that have been made redundant, is all having a dramatic impact," added Mr Kelcey.
"Something has to give and something has to change very quickly. Otherwise I'm afraid the justice system will come crashing down."