Saltford railway station receives boost from council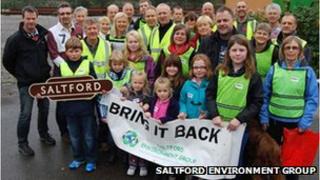 Campaigners have welcomed news that councillors are considering spending £100,000 on a business case for reopening Saltford railway station.
The station, between Bristol and Bath, was closed in 1970, but a recent survey indicated it might attract 200 new passengers a day.
Liberal Democrat-run Bath and North East Somerset Council said the cash would come from contingency budgets.
Cabinet members are being recommended to agree the budget on Wednesday.
A council spokesman said: "The potential for reopening Saltford station has been highlighted by a local campaign.
'Enormous potential'
"In order to develop the business case for the project funds are required in the order of £250,000 over the next three years.
"This report seeks funding for an initial £100,000 to take this work forward."
Duncan Hounsell, from the Saltford Station Campaign, said: "The council has listened to the overwhelming wish of Saltford residents for a reopened station.
"With 10,000 people each week day within 3km of the station site and 29,000 vehicles passing daily on the A4 road, a railway station in Saltford has enormous potential."
Prior to the cabinet meeting a petition with more than 2,000 names calling for the station to be reopened will be presented to councillors.