Man hit by falling scaffold pole receives payout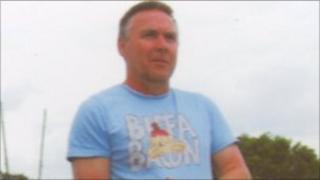 A man left with brain damage after he was hit by a piece of scaffold has been awarded a "substantial seven-figure sum" in compensation.
Richard Chodkiewicz, 54, was working on the Bristol Radisson Blu Hotel when the pole fell down a shaft and hit him.
Two firms were previously fined a total of £110,000 after admitting breaches of health and safety regulations at Bristol Crown Court last June.
A hearing at Bristol High Court approved the terms of the settlement.
'Financial security'
Speaking after the case Mr Chodkiewicz's wife, Karen, said her husband would never be able to lead a normal independent life.
"His short term memory is very poor... and his long term memory has also been affected and at times he has difficulty remembering the names of his own children which is heartbreaking," she said.
Deborah Bigwood, from solicitors Irwin Mitchell, said Mr Chodkiewicz had been left with a "significant, permanent brain injury".
"Although no amount of money will ever turn back the clock the settlement will provide Richard with a care package that provide the support that is so vital as well as much-needed financial security for his family," he said.
A previous hearing at Bristol Crown Court was told that on 22 July 2008, Mr Chodkiewicz, from Lawrence Weston, in Bristol, had been working on the lift shaft with two other experienced engineers.
The court heard the 19in (50cm) scaffold pole weighing 8lb (3.7kg) had been attached to a piece of piano wire which was being used as a plumb bob.
As the wire was being wound up the pole became detached, fell 14 storeys, and struck Mr Chodkiewicz who was at the bottom of the shaft.
He was airlifted to hospital and returned home some 18 months later, but now requires 24 hour care.
Millar Construction, which was running the project to build the Radisson Blu, was fined £40,000 at the hearing in June 2011.
Hoistway Ltd, which employed Mr Chodkiewicz, was fined £70,000.
Miller was ordered to pay £17,232 and Hoistway £14,616 in court costs.