Bristol Slapstick Festival 'needs funding'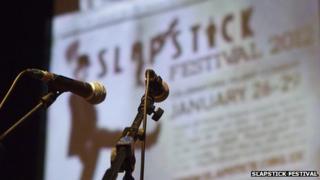 A festival dedicated to slapstick comedy and silent film is under threat because of a shortfall in funding.
Organisers of Bristol's Slapstick Festival, which began in 2005, said the annual event costs £90,000 to run.
Grant applications were unsuccessful and it would have to be "scaled back" if the money was not found, they said.
A fundraising gig, featuring comedians such as Barry Cryer, Marcus Brigstocke, Rory Bremner and Arthur Smith, will take place next weekend.
Festival director Chris Daniels said: "We applied for funding from Bristol City Council and other arts organisations and we were unsuccessful.
'Grand scale'
"If this [fundraising concert] were not happening at all we would have a very different festival in January, we'd have to cut the programme.
"There is such a strong will that we would definitely have it, but we wouldn't be able to do it on such a grand scale."
Mr Daniels said £10,000 of funding had been donated by Aardman Animations and Creative England and ticket sales for the festival itself would raise about £40,000.
"We still need to raise about £30,000 and this concert will raise about £15,000," he added. "We're also planning to go for other sponsorships."
Festival patron and former Goodie, Graeme Garden, said: "It's good to preserve the work of those early physical, visual comedians.
"For a lot of comedians silent comedy was their first experience of comedy when they were kids.
"The festival will go ahead but Chris [Daniels] doesn't want to decrease the authenticity of it.
"He could show the films with the existing plinky-plonk piano soundtrack but that wouldn't be the same as having a real pianist who is reacting in the moment to what he is seeing on the screen."
The Slapstick Festival , which is the only large scale event of its kind in the world, features slapstick films from the silent era and comedians whose own work has been influenced by it.
The Stand Up for Slapstick fundraising event will take place at Bristol's Colston Hall on 24 June.