Clevedon Pier seeks £800,000 for urgent repair work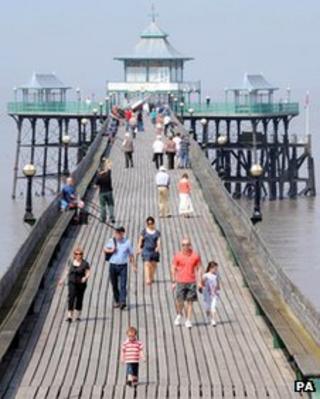 Clevedon Pier is in need of urgent repairs at a cost of some £800,000.
The Victorian pier needs to have its legs repainted and managers hope a substantial grant from North Somerset Council would help cover the costs.
A bid for almost £660,000 from the Clevedon Pier Trust will be discussed by council executives next week.
The council owns the pier, but granted the trust a 99-year lease which makes it responsible for maintenance as well as its daily running.
'Worrying situation'
The trust, which made a £26,000 profit last year, has offered to pay £140,000 towards the repair work.
Simon Talbot-Ponsonby, trust chairman, said: "It is a worrying situation but it is one that we have known has been coming for some time."
North Somerset Council, which has to cut £47m from its budget over four years, said councillors would "need to assess the urgency of the repairs required against the other pressures on vital services".
A major fund-raising appeal is also under way to raise £1.6m for a new visitor centre at what is the last remaining Grade I listed pier in the UK.
The trust said its planned visitor centre should generate enough money to avoid having to ask the council for large funds in the future.
Mr Talbot-Ponsonby added: "The work that needs to be done predominantly is to repaint the pier, because paint is a protective system and over time it wears away.
"A number of the legs are down to bare metal and that is why it needs repainting."
He said the legs under the main 244m (800ft) promenade were last painted in 1998, with the main beams treated 10 years before that.