Highwood Road closure: Council delays decision on trial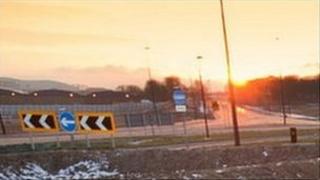 Plans to close a road in north Bristol are to be reconsidered after a council conceded the problems for residents "will far outweigh the benefits".
South Gloucestershire Council originally planned to turn part of Highwood Road in Patchway into a bus and cycle route for an 18-month trial.
The road links Filton to shops at Cribbs Causeway but some drivers now use the Hayes Road bypass instead.
The decision will now be taken at a full council meeting in July.
Transport planners voted to introduce the trial on Wednesday but this was suspended following a request that the matter should be referred to full council.
'Shared amenities'
Plans to turn Highwood Road into a "linear park" with green spaces and bus and cycle lanes were originally agreed in 2002.
At the time it was hoped this would put an end to traffic heading for the Cribbs Causeway shopping complex - to the north of Bristol - from cutting through Patchway.
It was hoped by cutting the traffic down people living in the newly-built Charlton Hayes development - to the south of Highwood Lane - could share amenities with people in Patchway to the north.
"Instead of a busy intrusive road a pleasant open area is planned for people to enjoy.
"The closure of Highwood Road to general traffic is a key part of achieving this," a South Gloucestershire Council spokesman said.
"The council appreciates that local people now feel that these proposals will cause problems for them that far outweigh the benefits.
"For this reason the final decision has been referred for the full council to make in July," he added.
The proposed changes would see Highwood Road become a single-carriage dedicated bus and cycle route between Coniston Road and The Boulevard, with two-way traffic permitted between the Standing Stone roundabout and Coniston Road.