Bristol's bid to be European Green Capital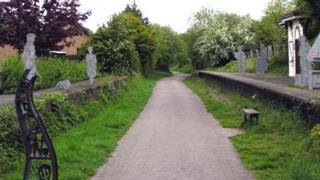 Bristol will discover later whether its green credentials are good enough for the city to be named the most environmentally friendly in Europe.
The race to be European Green Capital in 2014 is coming to an end with three out of the original 18 bidding cities still in contention - Copenhagen, Frankfurt and, smallest of all, Bristol.
It is not an award that comes with a hefty cash prize - in fact Bristol wouldn't win a penny, just a title.
But the city council has researched the fortunes of previous winners and claims that being Green Capital could bring a thousand jobs to green industries in the city, and media coverage over the winning year worth £1m.
These are figures to be taken with a sizeable pinch of salt though as there have only been three previous winners in this young competition.
On paper, Copenhagen (population: 541,989) seems an obvious choice.
Traffic gridlock
In the Danish capital, 35% of the population already cycle to work or school. New parks are being established so Copenhagen can meet its target of having a beach or green space within 15 minutes' walk for every resident. It also wants the entire city to be powered by renewables in 2025.
And Frankfurt (population: 664,838) can boast that it has managed to considerably reduce both its water consumption and the amount of waste it produces despite the city growing in size.
So with Bristol (population: 441,300) famed for its traffic gridlock, expensive public transport and poor air quality, it seems lucky to have gotten this far.
But this is not a competition based just on your current performance levels. Cities are also ranked according to how they plan to improve their lot and Bristol has come up with a strategy or two.
The judges were so persuaded by Bristol's level of planning that in the first round of scoring it actually came top for air quality, noise pollution and climate change.
Plans for the future aside, Bristol also has a strong story to tell as the country's only official Cycling City, as the home to green institutions like Sustrans, the Soil Association, ethical bank Triodos and the Environment Agency, and as a place rich in green space with the countryside never far away.
Street parties
It has also topped urban league tables for recycling, though the closest Bristol will now come to the return of trams is most likely bendy buses on guiding concrete rails.
And it has also been noted that while there have been German (Hamburg) and Scandinavian (Stockholm) winners of the EU Green Capital title before, it has yet to come back to Britain.
Were it to do so, Bristol would have to stage a year of green-themed activities in 2014. Its provisional plan is for 300 sustainability-themed street parties and an arts fiesta called The Festival of the Amazing.
Whether you see this award as a meaningless accolade or the passport to burgeoning eco-prosperity, Bristol goes into this final elimination stage as the underdog. But then that is a position the city has always seemed to relish.