Extra police patrols after trees set on fire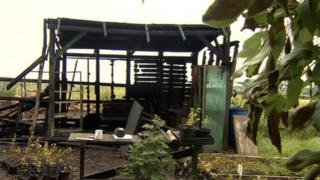 Police are stepping up their patrols in South Gloucestershire after a number of trees were set on fire in a spate of arson attacks.
It comes after a wooden barn owned by a community group at Grimsbury Farm in Kingswood was destroyed on Tuesday.
It housed young tree saplings which were to have been planted all over Bristol.
Trees were also set on fire outside two houses in Barrs Court and one in Warmley overnight on Monday to Tuesday.
Ben Hall, from the British Trust for Conservation Volunteers, said he was "really disappointed" at the damage to the barn.
'Cost a lot'
"A lot of volunteers on our projects have worked really hard to build this structure and grow lots of trees," he said.
"This really hampers our ability to do that and its going to cost a lot and take time to replace."
An Avon and Somerset Police spokesman said there had been been similar fires in the Barrs Court, Cadbury Heath, Kingswood, Staple Hill and Warmley areas in recent weeks.
Officers said more than 20 incidents had been reported to the force since April.
Six people have been arrested and three have been bailed, pending further inquiries.
Officers are appealing to the community to keep an eye out for any suspicious activity and report it.