'Stay away' from St Pauls Carnival location plea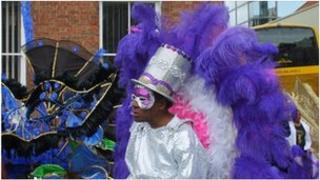 Organisers of a Bristol street carnival have urged people not to come to the area expecting a large scale event.
St Pauls Carnival was due to take place this weekend but was cancelled following uncertainty over the safety of participants and spectators.
It is thought there may be some small community events held over the weekend but nothing for the wider public.
Chairwoman of the event Rebecca Gibbs said no plans have been arranged for this weekend.
"The clear message is that there is not going to be a full scale event this year," Ms Gibbs added.
"I'd advise people not to come to St Pauls expecting a street festival and stalls. It is not going to be there."
'Very disappointed'
Ch Insp Mark Jackson, operations commander for east Bristol, said the police is prepared for high numbers of people to arrive but hopes most will stay away.
"The organisers tried particularly hard to get the information out," he said.
"It is possible that it hasn't got all the way because people come from all over the country to join the carnival, which is fantastic.
"But, should they have travelled all that way and find that there's nothing happening then they could be very disappointed.
"We're hoping that people are getting the message."
The colourful carnival has been held in Bristol since 1967, with a break in 2006 when its board was restructured.
In 2011 some 90,000 people attended the event.
In February organisers had warned the popular event would be "scaled-back" due to a lack of donations.