Bristol M32 park-and-ride plans likely to remain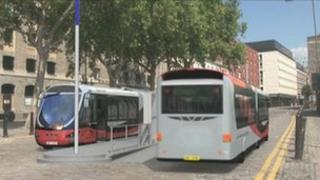 Conservationists opposed to plans for a park-and-ride off the M32 motorway in Bristol have been told the proposals are unlikely to be changed.
The Campaign to Protect Rural England also says a planned bus junction on the motorway is in the wrong place.
The land off the motorway has some of the most fertile soil in the country, the group says.
Lib Dem councillor Tim Kent said the site was the best spot for the scheme.
Joe Evans, from the Campaign to Protect Rural England (CPRE), said only 3% of Britain was classified as grade one agricultural land.
"It's the most fertile, most versatile land of all, and most of it is on the east coast in Lincolnshire," he said.
"In the West Country there's very little indeed."
'More than happy'
Mr Kent, the city councillor responsible for transport, said: "We're always happy to look at our plans but these plans were set in place quite a few years ago now.
"And there's a certain point where you get to a place where you've got to make decisions rather than keep reviewing them.
"Having said that, we're more than happy to discuss the exact location of a park-and-ride.
"But obviously there's a logical sense to having it just off the M32, to make it easier for people to get to."
The proposals would serve the Bus Rapid Transit Route project, which is expected to cost in the region of £200m.
That funding will be split across three authorities along with a government contribution of £112m.
The plans are expected to be operational in 2015.