'Peace walk' takes place in Bristol to promote 'unified' city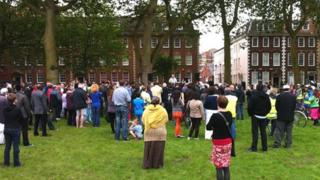 A multi-faith peace walk has been held in Bristol to promote a "unified and diverse" city.
More than 150 people gathered in Queen Square to hear speeches by community and faith leaders.
They were told if Bristolians expected fairness and respect they needed to learn to deliver it
On Saturday there were clashes after marches by members of the English Defence League and We are Bristol, with 20 people arrested.
Although both march routes were kept separate, there were clashes later close to Bristol Temple Meads railway station.
'Captivating journey'
The Bristol Multi-Faith Forum aims to celebrate a unified and diverse Bristol, "showing the way to those who seek to divide", it says.
Spokesman Zaheer Shabir said Bristolians were proud to be "inclusive and peaceful".
"These past few weeks have been an inspiring and captivating journey which have brought the faith, non-faith and the BME (Black Minority and Ethnic) and non-BME communities to symbolise what Bristol really means for us.
"For me Bristol has an identity that is colourful, that is powerful and wonderful.
"If we expect fairness and respect trust we must learn how to deliver it ourselves to others around us."
The peace walk was supported by the Liberal Democrat-led Bristol City Council.
"Sunday's event will be a very clear reminder to those who seek to divide that they are in a very small minority," Councillor Gary Hopkins said.