Bradley Stoke brothers died in laundry basket fire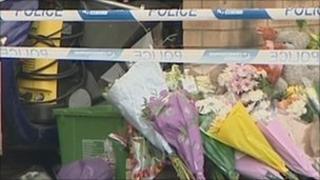 A house fire in which two young boys died most likely started in a laundry basket, an inquest has heard.
McKenzie Whitton, seven, and Charlie Whitton, five, were killed in the fire at Merryweather Close in Bradley Stoke, Bristol, on 19 March last year.
Assistant Deputy Coroner for Avon, Dr Simon Fox, said the fire was probably started by one of the boys, most likely McKenzie, playing with matches.
He returned a verdict of accidental death on each boy.
Avon and Somerset Fire crews had been called to the scene just before 06:30 GMT.
Smoke inhalation
The inquest heard that the body of McKenzie was found in the upstairs bathroom and Charlie's body was found in a bedroom.
Post-mortem examinations revealed they had died from the effects of smoke inhalation and carbon monoxide poisoning.
Their parents, Alexandra and Lee Whitton, and brothers, Adam, Thomas and Jack, escaped the fire. Another brother, Matthew, was not at home at the time.
Brother Adam Draper, 18, told the inquest his alarm had gone off at 06:00 GMT and that while he was dozing he could hear one of his younger brothers - he thought it was McKenzie - on the landing.
He said his view was obscured but he thought he saw a "flicker of flame" and the first he knew of the blaze was when his mother shouted "fire".
Mr Draper denied telling police he had seen McKenzie playing with matches on the landing and running into the bathroom when one fell on the laundry.
He said he had been speaking about what he thought may have happened.
Mr and Mrs Whitton, who said they had been unable to get into the bathroom or the boys' bedroom, both gave evidence that the first time they had seen flames was on the ceiling.
Neighbours praised
Dr Fox said two entirely separate investigations, by the fire service and a forensic scientist on behalf of the police, had arrived at the same conclusion - that a naked flame had fallen on the laundry.
Their evidence was that the burn patterns and fire damage were consistent with this having happened.
The coroner said the fire spread rapidly because there were no doors on the upstairs rooms and it was unclear why the smoke alarms had not gone off.
He said there was no evidence to support the family's concerns that the fire had started next door and moved through the loft to their house, or that a newly fitted shower in the house next door was the source of the fire.
Recording his verdict, Dr Fox praised neighbours who had risked their lives trying to save the two boys.