Bristol's Green Party selects candidate for mayor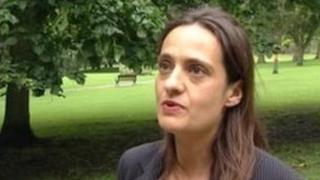 The Green Party has chosen its candidate to be mayor of Bristol.
Daniella Radice was selected from a shortlist of four candidates by Green Party members following a hustings and will stand in November's election.
She will campaign for control over academy schools to be handed back to the council.
The Green Party also wants new investment bonds to be issued to raise money for infrastructure improvements in the city.
Other manifesto pledges include a new transport hub at Bristol Temple Meads railway station and more council contracts for small businesses.
Ms Radice, 38, has worked as an energy advisor in both the public and private sector.
She has twice run for a city council seat - unsuccessfully contesting the Ashley ward in 2007 and 2009.
No 'personality contest'
Despite Bristol being the runner-up in European Green Capital contest for 2014, only two of the city's 70 councillors are members of the Green Party.
Ms Radice said: "We've been working really hard to build up the Green vote. We've come second in a number of wards so we really are pushing it.
"We really don't want the mayor campaign to be a personality contest. Policies are important.
"The key issues are the economy in Bristol and how we can get the city ready for the increase in the price of oil and climate change."
Two of Bristol's biggest political parties are yet to select their candidates. Both the Conservatives and Liberal Democrats will choose their representative next month.
The Tories have drawn up a shortlist but have decided not to disclose it.
The Liberal Democrat contest is between the current deputy leader and leader of Bristol City Council, Councillor Jon Rogers and Councillor Simon Cook.
Bristolians voted in favour of replacing the council leader with an elected mayor in a referendum in May.
The mayoral elections will be held on 15 November.