Cities minister says Bristol mayor candidate charge 'outrageous'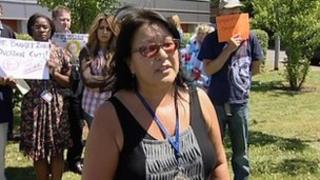 A government minister has said the £2,000 fee Bristol mayoral candidates could be charged to appear in an election booklet is "outrageous".
Bristol City Council plans to ask each candidate to pay between £1,500 and £2,000 to help fund the booklet, which will go to all voters.
But Cities Minister Greg Clark said there was "no excuse for such demands".
The Liberal Democrat-run local authority said it had to produce the booklet by law.
The government has instructed that candidates be asked to contribute a "reasonable amount", the council spokesman added.
Candidates can choose not to contribute, but they will not appear in the booklet.
'Spurious grounds'
Bristolians voted in favour of replacing the council leader with an elected mayor in a referendum in May.
All candidates will also have to pay a £500 deposit and attract 30 signatures of support to stand in elections, which will be held on 15 November.
Mr Clark said: "The people of Bristol have made it clear they want a mayor and it is ridiculous to prevent local democracy taking place by demanding outrageous fees on spurious grounds.
"There is no excuse for such demands being imposed on candidates and the council should rethink its position."
His comments come after Respect Party mayoral candidate Paulette North said the "ridiculous" amount could deter people from standing for mayor.
The Bristol fee works out at more than three times that recently charged per voter by Liverpool.
The city, which had an electoral population of 321,121 in December 2011 charged its mayoral candidates £500 towards the booklet.
Bristol had an electoral population of 322,402 in December 2011, Office for National Statistics figures show.
In Salford, mayoral candidates have been asked to contribute £500 towards the cost of the election booklet, while in Leicester they have been asked to pay £250.
'Rather shocked'
Independent Eric Mutch, who is standing in the Bristol election as Mr Corrupt Self-Serving Thieving Lying B'Stard, said he felt that charging candidates was "prohibitive and leads to a very undemocratic process".
"I think elections should be cost free so anyone who wants to run can run," he said.
"However, I understand that things cost money and if a brochure is sent out, the costs should be covered.
"I think £2,000 to get my message out to every voter in Bristol is a bargain when you think how much advertising costs."
Green Party candidate Daniella Radice said: "It's important that every voter in Bristol gets information about the candidates but we feel rather shocked that it is such a large amount of money.
"For small parties like ourselves, we just rely on donations from individuals.
"We haven't got massive unions or bankers funding us so it will be a struggle for us to scrape that money together but of course we'll try."
'Cost effective'
A statement from Bristol City Council said the final cost of the booklet - which would be available online and be "circulated widely" - was still being worked out.
"The cost of the booklet will depend on its size, which depends on the number of candidates wishing to be included," the statement continued.
"Final details of the cost options are still being worked up, but very early estimates indicate that cost to candidates is likely to be in the region of £1,500 to £2,000 each.
"This works out as 0.6p per registered voter, and represents a cost effective way for candidates to reach the entire electorate."
The statment added that the candidates would be issued with detailed guidance and a breakdown of costs in the coming weeks.