Guide Dog of the Year pulls owner out of 'living nightmare'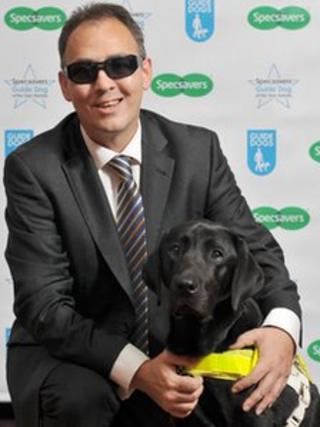 "We're all frightened of being told stuff, and the ultimate is terminal illness, but I think behind that is losing your sight," says John Tovey, 44, for whom blindness became a reality almost two years ago as a result of diabetes.
"It was hell. I wasn't expecting it at all, it was a complete bolt out of the blue," he said.
"I didn't accept it for months and just shut myself away, drinking and moaning, too scared to go out. I was permanently drunk."
He described waking up in tears, sometimes having dreamt that he could see, and living in darkness both mentally and physically.
At his lowest points he was unable to see any kind of future and contemplated ending his life.
'Life worth living'
Previously he had worked as a fitter for tunnel boring machines, on such projects as the Channel Tunnel and the Jubilee Line extension, but he lost that job.
He became unable to pay his bills and was forced to move to a new area of Bristol, leaving him feeling isolated and depressed.
Now though, nearly two years later, Mr Tovey has seen a complete U-turn in his appreciation of life and determination to make things work.
He attributes the change to two major influences; willpower and a black labrador called Dez.
"Before I got my guide dog I wouldn't get out of bed for days. Since having Dez, life is worth living again - he's given me my life back," he said.
The idea of a guide dog was suggested by the RNIB but not welcomed at first by Mr Tovey, who now lives in Almondsbury, because he did not think he could look after one.
"They dropped him in with me on a Friday [last September] to commence training on the Monday and so we had a weekend to get to know each other, and I just fell in love with him.
"I knew then that things would be different. I really embraced it, and living alone I was really glad of the company."
Before Dez, Mr Tovey admitted that he would not leave his flat unless he really had to, but nowadays he is woken by a hungry dog at 7:30 in the morning.
"Instead of waking up and wanting a cry I have a smile on my face.
"It's like living with Tigger - bouncing around asking 'what are we doing today then, what are we doing today?' - and even if I have got nowhere to go, I'm out and about with him all the time.
"He's a bit of a celebrity around here now and it doesn't seem like that long ago that I was a hermit, with no future."
That fame became national news last week when Dez was named 'Guide Dog of the Year 2012' at an annual award ceremony held by the Guide Dogs for the Blind Association.
The award was presented by TV's Adrian Chiles, who credited them both for being "a real inspiration".
"All guide dogs give their owners a new lease of life but the help Dez has given to John goes beyond all possible expectations," said Mr Chiles.
'Life is good'
Mr Tovey dedicated the award to Guide Dog Mobility Instructor, Emma Yard, who trained the two to work together.
The 30-year-old, from Portishead, said theirs was one of the best partnerships she had ever seen.
"It's no surprise that they've done so well so quickly, because Dez has completely transformed John's life in the last ten months," she added.
"When they were training together, John and Dez were very much alike, both very keen and willing to please, and they hated it if they made any mistakes."
Now the partnership has renewed Mr Tovey's hope for the future and he is trying to get into a college in Hereford for visually impaired people.
He is also teaching himself how to type using a computer with talking software.
"They are little steps but my goal is to get back to work, any type of work," he said.
"The chances are very limited for visually impaired people but determination is going to get me through and Dez is going to be right by my side.
"Life before was a living nightmare and I was not happy at all, but now with Dez, life is good and I couldn't put a price on what he has done for me."