Christopher Jefferies says Leveson Inquiry was 'very encouraging experience'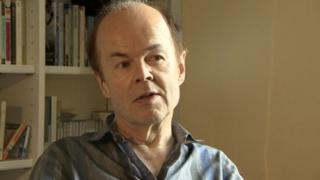 The man who was falsely accused of murdering landscape architect Jo Yeates has said the Leveson Inquiry was "a very encouraging experience".
Christopher Jefferies, who let a flat in Clifton, Bristol, to Miss Yeates and her boyfriend, was arrested after the 25-year-old was found dead in December 2010.
He was questioned by detectives for two days before being released.
Dutch national Vincent Tabak was later convicted of Miss Yeates's murder.
During his trial it was revealed that Tabak had implicated Mr Jefferies by telephoning police and making false allegations against him.
Tabak was sentenced to a minimum of 20 years in jail for killing Miss Yeates, who was originally from Ampfield in Hampshire.
In a witness statement at his appearance at the Leveson Inquiry in November, Mr Jefferies told of a "frenzied campaign to blacken his character" by the tabloid press which had "decided he was guilty of the murder".
He accepted a libel payout from eight national newspapers, including the Daily Mirror, over false claims they made against him.
Speaking to the BBC, the retired English teacher said his portrayal had been an almost "surreal experience".
"The person who was being portrayed in the media was certainly not somebody that I recognised, and I don't think it was somebody that anybody who really knew me recognised either," he said.
'Welcoming homecoming'
Mr Jefferies said that he did not return to Clifton for more than three months after his arrest.
"I did wonder when I went in to places that I knew very well in Clifton, how I would be received," he said.
"I was rather apprehensive, whether they would still see me as they used to see me, or whether they would see this other strange person who had been super-imposed on me.
"But no, I was remarkably reassured, everybody was tremendously pleased to see me, extremely critical of what had happened.
"It was a sort of welcoming homecoming in every way."
He said he had changed his appearance so that he would not be recognised when he was out and about.
"Now of course, everybody does recognise me wherever I go and I'm actually quite surprised that people want to stop and talk about it," he said.
"I'm still remarkably encouraged and touched by the sort of things that they say."
The Press Complaints Commission (PCC), which was widely criticised for its handling of the phone-hacking scandal, is to be replaced by a transitional body until a new system of press regulation is established.
Mr Jefferies said the PCC was never really was a regulator, but a way of dealing with "comparatively minor complaints" against the press.
He said: "Certainly what has now got to happen is that what replaces the PCC is a genuine regulator with proper powers to ensure that the sort of thing that happened to me, the sort of thing that happened to the McCanns, the Dowlers, whoever else, is never allowed to happen again."
He said one of the regulator's jobs would be to make certain that the culture of the press changed "radically" and that the press was "far less self-serving than it has been in recent years".
"And [that it] certainly isn't allowed to feel as if it is above the law and has carte blanche to behave more or less as if it wishes with impunity," he added.