Shrien Dewani 'needs period of calm'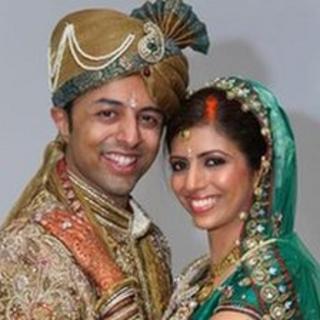 A man accused of the murder of his wife needs a "period of calm" before facing an extradition hearing, Westminster Magistrates' Court has been told.
Shrien Dewani, 32, from Bristol, is accused of ordering the murder of wife Anni in South Africa in November 2010.
Clare Montgomery QC asked for the case to be put on hold for a year to enable her client to recover from depression.
But the case was only adjourned until September, to allow for updated medical evidence to be put before the court.
Care home owner Mr Dewani, who denies any involvement in the honeymoon killing, has been diagnosed as suffering from severe post-traumatic stress disorder and depression.
Representing Mr Dewani, Miss Montgomery claimed the process had been hanging over her client like "the sword of Damocles" and he needed a "period of calm".
'Constant awareness'
She said keeping Dewani under medical treatment for a year would increase the speed of her client's recovery, which would be jeopardised if he were sent to South Africa.
Miss Montgomery said that, according to his psychiatrist, Mr Dewani was making a slow recovery but one damaging factor was his "constant awareness of the court proceedings".
Chief magistrate Howard Riddle said he wanted to see updated evidence before considering a longer adjournment.
Mr Riddle previously ruled in 2011 that Mr Dewani could be extradited, but the process was temporarily put on hold by the High Court in March because of the care home owner's poor mental health.
The court ruled it would be "unjust and oppressive" to send him to South Africa straight away.
Taxi hijacked
But arguments that Mr Dewani should not be extradited on human rights grounds were rejected by the court, which said it was in the interests of justice he be extradited "as soon as he is fit".
Following the hearing, the victim's uncle Ashok Hindocha said that his family desperately needed answers and wanted "closure", "the sooner the better".
"I don't know how much longer the family members can take this pressure psychologically," he said.
"We hope on September 18 we will have some answers."
Mrs Dewani, 28, from Sweden, was shot when a taxi in which the couple were travelling was hijacked in Cape Town's Gugulethu township during their honeymoon.
Taxi driver Zola Tongo, from Bothasig, Cape Town, has been jailed for 18 years for murder, kidnapping, robbery with aggravating circumstances and perverting the course of justice.
He has claimed he was hired by Mr Dewani to arrange his wife's execution during a fake carjacking.
Mr Dewani's co-accused Xolile Mngeni and Mziwamadoda Qwabe are due to go on trial at the Western Cape High Court in South Africa.
Mr Mngeni and Mr Qwabe face charges of kidnapping, robbery with aggravating circumstances, murder and two counts relating to the illegal possession of a firearm and ammunition.
Mr Dewani faces charges of murder, conspiracy to commit murder, robbery with aggravating circumstances and obstructing the administration of justice.