Large Hadron Collider section at Bristol International Balloon Fiesta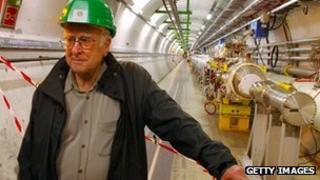 Visitors to this year's Bristol International Balloon Fiesta will be able to see a replica of part of the Large Hadron Collider tunnel.
The instrument, underneath the border between France and Switzerland, allows scientists to smash protons together at extremely high speeds.
Last month, physicists running experiments there found a new particle "consistent" with the Higgs boson.
It is hoped it will tell them more about what happened after the Big Bang.
The Higgs boson has been the subject of a decades-long hunt as the last missing piece of physics' Standard Model, explaining why matter has mass.
Professor Peter Higgs, who hit on the concept of the Higgs mechanism in 1964, went to Cotham School in Bristol.
The Science and Technology Facilities Council (STFC) has teamed up with the University of Bristol "to celebrate the hot air balloon's place in scientific history" at the festival.
Visitors will see a replica of a 3.8m wide section of the Large Hadron Collider.
They will also have the chance to meet some of the physicists involved in the discovery.
It is the first time science will have "such a strong presence" at the event, the STFC said.