Bristol city mayor: Lib Dems name Jon Rogers as candidate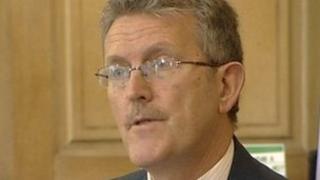 A Lib Dem councillor who previously campaigned against an elected mayor for Bristol has been chosen by his party as a candidate for the role.
The city council's deputy leader Jon Rogers was chosen from a shortlist of two that also included council leader Simon Cook.
Dr Rogers said he had been concerned that giving too much power to one person would undermine councillors.
The former city GP now says he will make sure that does not happen.
"I want to make sure the power stays with councillors and also that I represent Bristol on the national and international stage," he said.
"As a family doctor for 30 years, I know this city inside out - the people, the places, the issues. I know what makes Bristol great and I know what makes life hard for too many Bristolians."
He added that he was "determined to be a mayor for all of the city, not just one part of it".
Liberal Democrat Deputy Leader Simon Hughes added: "Jon will be a fantastic mayor for Bristol. As a doctor he has shared the lives of thousands of people across this city, of all ages and backgrounds. He cares about the whole city."
The Labour Party has previously announced Marvin Rees as its candidate and the Green Party has chosen Daniella Radice.
The Conservatives will choose their representative later this month for the mayoral election on 15 November.
Bristolians voted in favour of replacing the council leader with an elected mayor in a referendum in May.