Royal Mail denies painting a Wiltshire post box gold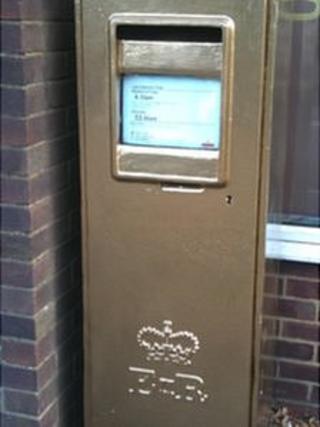 Royal Mail has denied it painted a Wiltshire post box gold to honour Heather Stanning's Olympic victory.
Capt Stanning, a Royal Artillery officer based on Salisbury Plain, and rowing partner Helen Glover won gold in the rowing women's pairs on Wednesday.
Royal Mail painted a post box gold in her home town in Scotland on Thursday but now a box at Larkhill Post Office has also been painted gold.
Mark Baker, the postmaster, said it was a complete mystery who was behind it.
"Lots of our customers have come in expecting to see our post box painted gold," said Mr Baker.
"But Royal Mail told us that they are only going to paint the post boxes of the home towns of the winners of gold medals.
'Special forces'
"Well we all thought that this is more like Heather's second home and then when I woke up in the morning I found my post box was bright gold.
"I think we have to look at the regiment and say we think it was you but maybe they got the special forces to fly in under the cover of darkness and do it."
The Army, in a statement, said that it was "the magic of the Olympics rubbing off on the post box".
A Royal Mail spokesman said: "We were all hugely excited by Heather Stanning's gold medal win with her rowing partner Helen Glover, the first of the Olympics and we were poised to fulfil the promise we made at the outset of the Games that we would paint gold a post box in her home town.
"Perhaps we shouldn't be surprised that her colleagues at the Larkhill army base beat us to it - and of course they did a great job too."