Hopes for Penpole Lodge restoration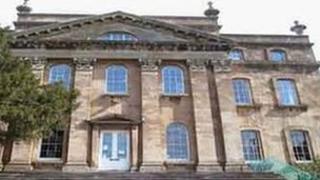 Conservationists hope that a historic building in Bristol can be reconstructed in its original form.
Members of the Kings Weston Action Group spent part of the weekend uncovering and recording the ruins of the 18th Century Penpole Lodge.
The lodge is on the Kings Weston estate, a Grade I listed mansion set in 28 acres of parkland overlooking the Severn Estuary and Avonmouth.
The action group's chairman said the plans were "a very long-term ambition".
Penpole Lodge was demolished by Bristol Corporation, which later became Bristol City Council, in 1950 after it was made unsafe by vandalism.
David Martyn, chairman of the Kings Weston Action Group, said: "We'd like to find a new use that we could put the building to and hopefully find funds that could rebuild it.
"It's such an important building in the history of the Kings Weston estate, it would be really fulfilling."
The current Kings Weston House was built between 1710 and 1723 on the site of an Elizabethan manor house.
Its history has included becoming a hospital for soldiers wounded during the First World War, and as a training centre for the Crime Investigation Department (CID) in the 1970s.